March 4 - March 8, 2023
The Marcon Institute is founded on love as envisioned by bell hooks.  This March 4-8th, we are proud to be hosting our inaugural Radical Love Conference, modeled on hooks' understanding of the transformative power of love.  Each day will have a specific theme with corresponding conversations and events.  These conversations are opportunities to act with love and build a community in which we all feel we belong, wherein our contributions and differences are valued.  We hope everyone will leave with a stronger belief in love and a credible commitment to antiracist actions based on care, commitment, knowledge, responsibility, respect, and trust.  More details including registration links can be found below.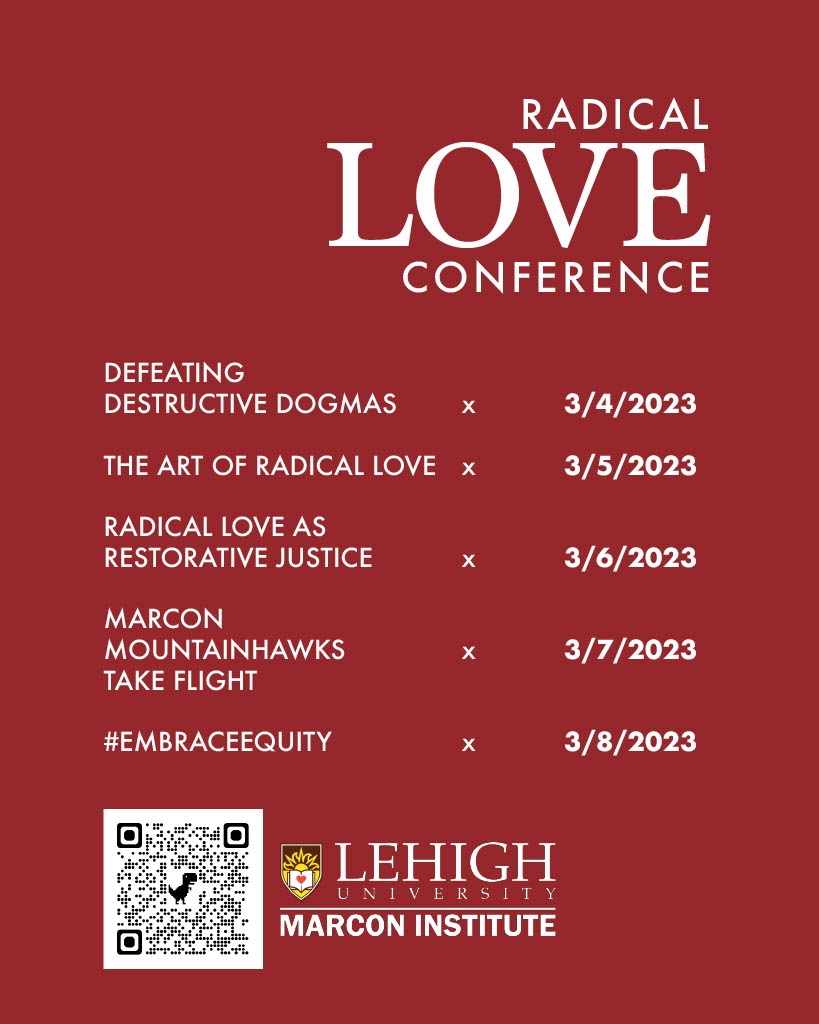 DEFEATING DESTRUCTIVE DOGMAS
Saturday, March 4, 2023 - Daily Dose
Therapy Dog Cafe – STEPS CONCOURSE (11:30 am - 3 pm)
Community Bruncheon – STEPS 102 (12:10-1:30 pm)
bell hooks documentary viewing & panel discussion – STEPS 101 (2-4:30 pm)
THE ART OF RADICAL LOVE: RADICAL ACTS OF LOVE AND RESISTANCE THROUGH ART
Sunday, March 5, 2023 - Daily Dose
Artists Exhibition – LUAG (1:15 - 2:15 pm)
Poetry Reading – LUAG (2:15 - 3:15 pm)
Art of Appreciation Exercise – LUAG (3:45 - 4:30 pm) 
Please find the event recording here. 
RADICAL LOVE AS RESTORATIVE JUSTICE
Monday, March 6, 2023 - Daily Dose
SOULS of Antiracists Breakfast – HST Forum (10 am - 11:30 am)
Self-Care for Activists - Restorative Yoga – Linderman 200 (2-3 pm)
Justice: The Public Face of Love – STEPS 101 (5 - 7 pm) 
MARCON MOUNTAINHAWKS TAKE FLIGHT!
Tuesday, March 7, 2023 - Daily Dose
A Celebration of the Inaugural Cohort of Marcon Fellows - Linderman 200  (6 - 7:30 pm)
#EmbraceEquity
Wednesday, March 8, 2023 - Daily Dose
Celebrating the Center for Gender Equity - FML (10 am - 11:30 am)
Children's Story Time with Dr. LaToya Council - FML The Circle (Behind the Grind) (12:30 - 2 pm)
Cat Café and WGSS Writer's Retreat - FML 379 (1 - 3 pm)